History
It was early in 2004 (almost an eternity, when speaking about Internet) when a goup of persons interested in Genealogy and, specifically, in the study of their Aragonese roots, created a group in Yahoo with the aim to share and help in their research.
The group AragonGen on Aragonese genealogy had started to walk.
During these more than 3 years, the group has been very active: almost 8500 messages as of February 2007, and 539 members certify this level of activity.
In June 2005, the organization of a first presential meeting is proposed. It takes place in Zaragoza (Saragossa) on Saturday 25th June 2005 with an important attendance and a big amount of participation and motivation. It was then when the evolution towards a Cultural Association is devised, not with the aim to replace the internet group, but as a way to go deeper and channel the yearning and knowledge expressed by most.
At the end of 2005, some members put the Association under way. This way was difficult since AragonGen was born and continues to work almost completely as a non-presential association. This is because the members are spread in almost all continents, and because it was born in Internet, a medium somewhat unusual for associations.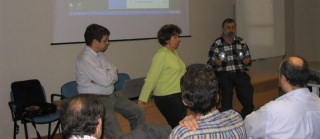 During 2006, we started the activities of the Association. The first priority was its constitution: the statutes and the election of the first board of directors. In February, the founder members signed the statutes, with the first board of directors composed by: Jesús Soriano, president; Manuel Trujillo, vice-president; Juan Pablo Martínez, secretary; and Gonzalo Vázquez, treasurer.
On 9th December 2006, the first General Assembly of the Association took place in Zaragoza. After the first steps the Assembly defined more clearly the organization and working model of the Association. It also modified partially the statutes and elected the first non-provisional Board of Directors.
2007 is the year of the settlement and spreading of our activities. We are working in that and it is with this hope that we will receive you with open arms.